In Tornado Outbreak, harness the power of a raging tornado and battle the forces of evil in an effort to save to world!
IGN Review Score: 8.1
Published by Konami in July 2009. Developed by Loose Cannon Studios. Available on Xbox 360, Wii, and Playstation 3.
Tear through open environments chewing up the landscape and spitting out everything in your path. The more you destroy, the bigger you grow as you work against time, collection and point challenges in the search for hidden elements and enemies from another world. Watch the debris fly as you shred through beautifully stylized levels battling bosses and working to defeat the forces of evil.
The world is your playground, rip it up!
Compete in time, point and collection based challenges with the option of playing through the story or fueling the excitement with added goals

Delivers new character abilities throughout the game including enhanced movements and combo options

Expansive sandbox type gameplay and real time destruction allows gamers to destroy what they want, when they want, WHERE they want!

Twist your way through crazy objects and comical characters expanding your tornado by auto collecting or implementing the advanced chain collecting-mode for more skilled players to snuff out villainous creatures

Double the destruction by playing cooperatively with a friend in multiplayer mode

ESRB RATING – EVERYONE 10+
Content is generally suitable for ages 10 and up. May contain more cartoon, fantasy or mild violence, mild language and/or minimal suggestive themes.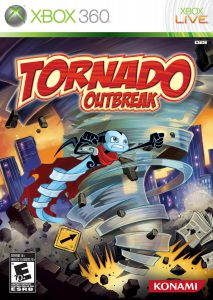 Download now from the
Xbox Store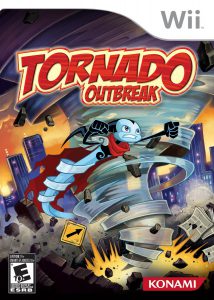 Buy now on
Amazon.com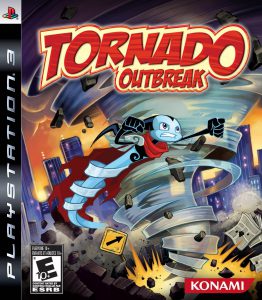 Buy now on
Amazon.com
The Tornado Outbreak Comic Book
This comic-book was put together by the Loose Cannon team for Konami as part of the marketing materials for the launch of the game.
Copyright (c) 2009 Loose Cannon Studios.
Darci's Role on this Project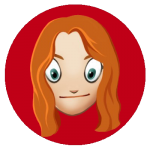 Darci was the Senior Producer at Loose Cannon Studios on this project. She also played the voice of the water sprite characters in the game.
(Stumpytown version of Darci drawn by the incredibly talented and awesome Karin Madan – go give her a visit!)
Facebook Comments